Overview
With the introduction of macOS10.15 (also known as "Catalina") in October 2019 Apple withdrew support for 32-bit applications - only 64-bit applications can be used on macOS 10.15 (Catalina), macOS 11 (Big Sur) and later. Apple explain this in this article.
32-bit applications tend to be older, developed at a time before 64-bit processors and operating systems were the norm - older games, that haven't been recently updated, are likely to be 32-bit and so will not work on macOS 10.15.
How we indicate a game won't run on macOS 10.15 (Catalina) or later
Where we are aware that a game will not work on macOS 10.15 (Catalina) or later we show an info box above the Game Details box in (on desktop PCs) the right-hand sidebar: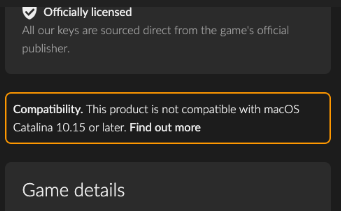 Or this information may be presented on the "Requirements" section:

For Star Deals, Pick and Mix selections and Bundles the above Catalina warning is shown in the "System Requirements, Mac" box.
We may also include other notes within the "Mac, System Requirements" for the game: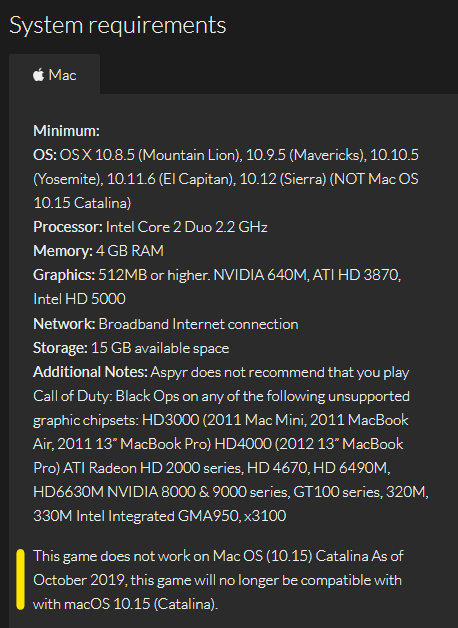 What can you do to run 32-bit games?
32-bit games will remain listed in your Steam and other accounts, but you won't be able to play them on Apple Macs running macOS 10.15 or later. Those games that also support Windows or Linux can still be played on Windows and Linux PCs.
When running macOS 10.15 there are a couple of options you can follow to continue running 32-bit applications on your Mac, but they involve using Windows or an earlier version of macOS:
Consider installing macOS 10.14 Mojave on a separate APFS volume on your computer along with Steam or your other gaming client. This will allow you to flip over to macOS 10.14 on restart of your computer where you can continue to play all of your 32-bit Mac games. More information here.
Use Bootcamp on Mac to launch your games in Windows on your Mac computer. More information about Bootcamp can be found here.