The Fanatical Assistant is available for both Chrome and FireFox through the Chrome Web Store.
If you've using Microsoft Edge, you can install the Fanatical Assistant from the Chrome Web Store after first allowing extensions from other stores: Click the "Settings and more" button (or press "Alt"+"F"), select "Extensions" and turn on "Allow extensions from other stores" then go to the Fanatical Assistant's Chrome store page and click "Add to Chrome".
Use the Fanatical Assistant to get better prices on games, and receive coupon codes that are exclusive to you! It won't slow down your browsing experience - when appropriate (see below) anonymous price lookups are done after the page is downloaded.
This easy-to-use extension automatically notifies you when a game you are viewing is cheaper at Fanatical. Best of all, it offers you exclusive promo codes (coupons) so that you can grow your game library without burning a hole in your wallet.
Here are just some of the many benefits from installing Fanatical Assistant:
Save time and money searching for the best deals on games - receive an instant notification right in your browser when Fanatical has the best price
Exclusive coupon codes for you. How nice are we?!
Sync and add your Steam Wishlist over to Fanatical so that you never miss a great deal again
Never miss a deal. Get the best Steam game and bundle deals delivered direct straight to your browser every day.
Price checks are anonymous - you don't have to login to any account to use the assistant
Once installed, click or tap the Fanatical icon in your browser's toolbar to change settings or view current offers then click/tap any offer that you're interested in to open that page: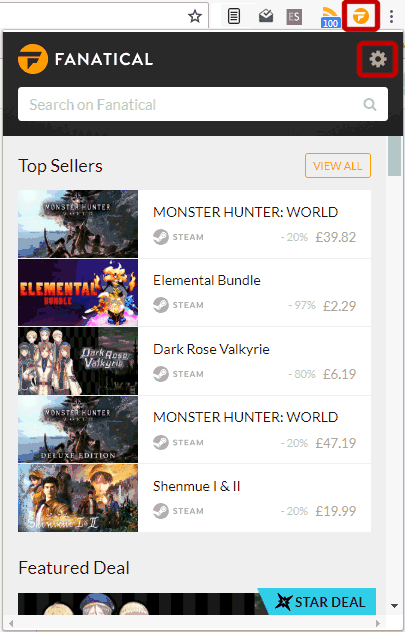 Configuring the Fanatical Assistant
Click/tap the "Settings" cog icon in the Fanatical Assistant's window (highlighted above in red) to call up configuration options:
Customise Content
Select which categories of offers you want to appear in the popup Fanatical Assistant window, options currently include:
Top Sellers
Featured Deals
Coupons
Some coupons are only available through the Fanatical Assistant and will only work from browsers where the Fanatical Assistant is installed
Bundles
New Releases
Coming Soon
Ending Soon
Price Notifications
The Fanatical Assistant can alert you (using an information bar at the top of your browser) to offers available at fanatical.com related to the page you're viewing as shown below: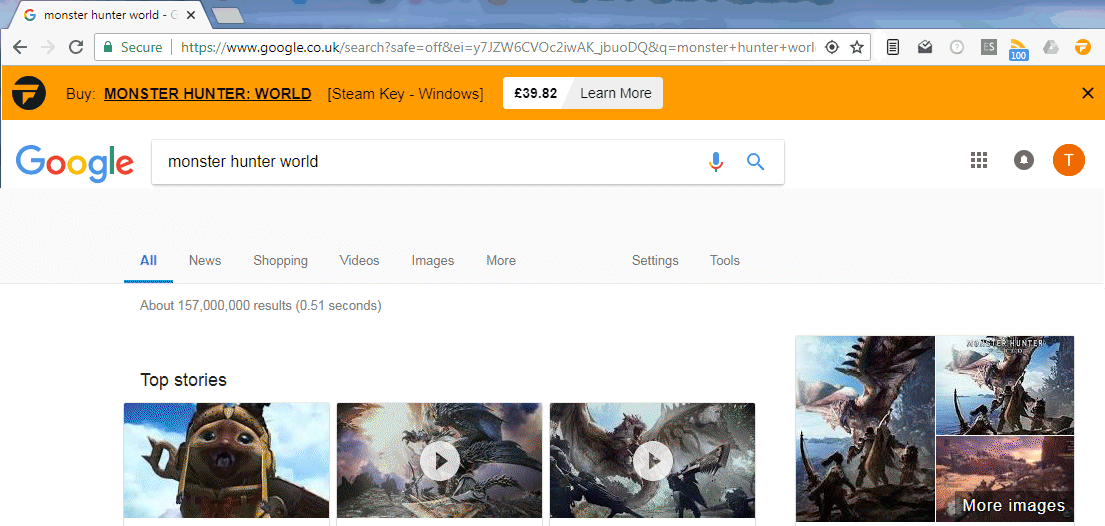 Prices will be shown in the currency that payment is taken in through Fanatical.com with an approximate local currency value (if that's different) and will incorporate the best of any available coupons that can be used with the game.
Just click the "Learn More" button to view or buy the game through Fanatical.com: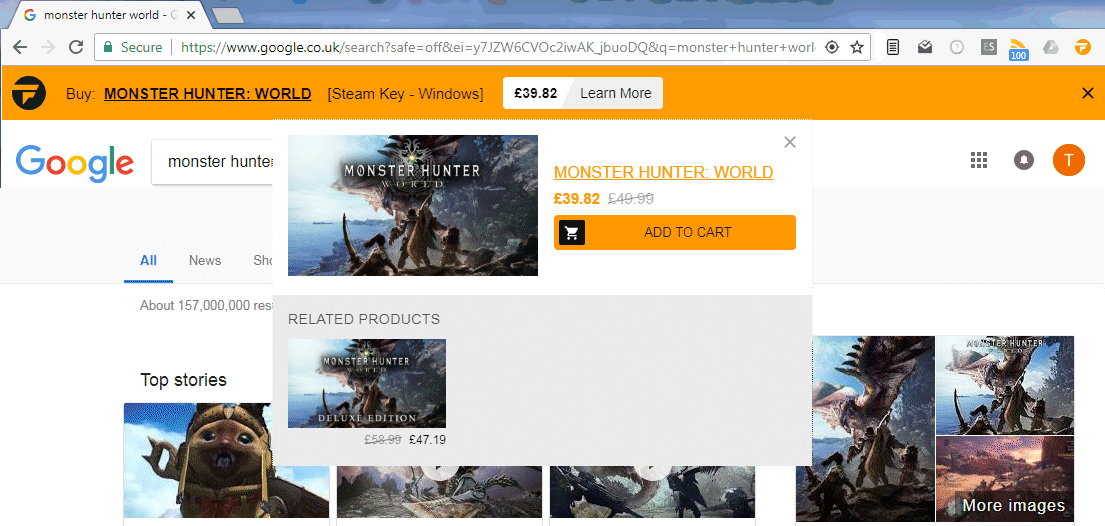 Use the "Add to cart" button to add the game to your Fanatical.com cart and automatically apply the best available coupon to get the best deal!
You can configure whether the Fanatical Assistant should alert you:
While browsing other global game stores (including the Steam Store) as from "Is there any deal". You can also select whether to always show Fanatical.com offers or only when Fanatical.com is cheaper than the current store site.
When searching for games on Google or Bing - if the search results include "Steam Powered" or "Video Game" (or regional equivalents) the Fanatical Assistant will check for matches at fanatical.com if you've allowed "Search Engines" to be monitored
When viewing game play videos (tagged "game") on YouTube or Twitch the Fanatical Assistant will check for matches at fanatical.com if you've allowed "Videos" to be monitored (we won't check if you happen to watch videos about, say, "chickens"!)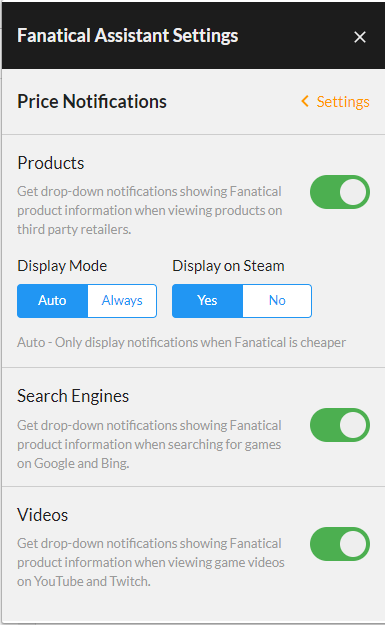 Wishlist Sync
Configure whether a prompt to sync your Steam Wishlist with your Fanatical.com Wishlist is displayed when you browse your Steam Wishlist and whether Steam games already in your library are automatically removed from your Fanatical.com Wishlist: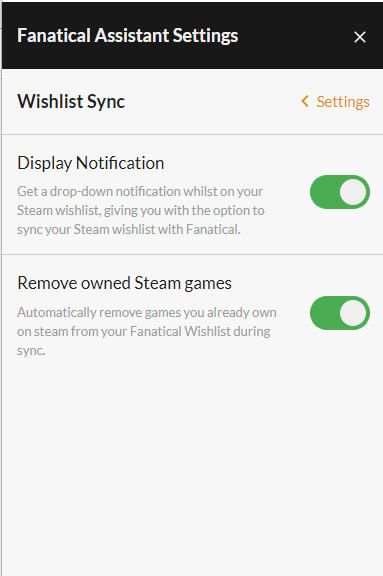 To sync your Steam and Fanatical Wishlists... In a browser where you've installed the Fanatical Assistant, go to your Steam Wishlist on your browser at https://store.steampowered.com/wishlist/ and make sure you're logged into both your Fanatical and Steam accounts - the Fanatical Assistant will prompt to sync your wishlist as shown below...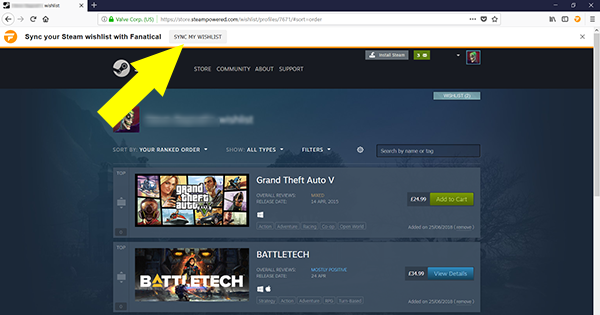 Note: If nothing happens when you click the "SYNC MY WISHLIST" button, try removing and reinstalling the Fanatical Assistant extension ensuring you grant it the requested permissions.
Removing the Fanatical Assistant
You can disable or remove (uninstall) the Fanatical Assistant as follows, depending on your web browser:
Chrome: Select "Menu", "More Tools, Extensions", click the "Remove" button associated with the "Fanatical Assistant"
Contact Customer Services
Send Feedback
Let us know what you think and how can could improve the Fanatical Assistant!
Legal Notes
By using this extension, you agree to Fanatical's Terms & Conditions and the Fanatical Assistant's Terms & Conditions.