Check the product page, if there isn't an expiry date shown then the product will continue to sell out until we've run out of keys. This means you might need to get in quick as we could see out of this game at any time.
If the product or bundle does have an expiry date then the length of time left for the offer for is displayed under the price on the product page
For example: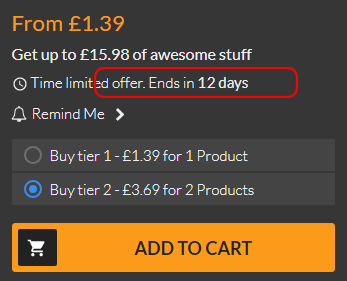 In rare circumstances we will temporarily sell out of our limited quantity of keys, in this case the product will automatically be removed from sale whilst we provision more keys.

If you don't already do so, Like us on Facebook, Follow us on Twitter and/or subscribe to our emailed newsletter so you get informed about all of our offers - but remember offers do sometimes sell out and we do reserve the right to change offer periods, so it's best not to delay if you can help it.